It's no joke! After searching for eggs and a delicious Easter breakfast you can come to Grounds with the whole family for a wonderful Brazilian afternoon and evening.
With a concert of our special guests from Brasilia, presentations of pupils and teachers of EPM Holanda and Capoeira Berimbau de Ouro, jam session and of course delicious authentic Brazilian food (dinner reservations!)
Concert:
Teachers EPM Holanda:  (Elizabeth Fadel (piano), Udo Demandt (percussion), Alvaro Rovira Ruiz (guitar), Floor Polder (flute), Kees Gelderblom (guitar), Hassan Ait Moumad (bass), Marijn van der Linden (cavaquinho) Rafael pereira Lima (sax) and Magda Mendes (vocals)
Special guests: Henrique Neto (7 string guitar) and Márcio "Frango" Marinho (5 string cavaquinho)
Both are teachers of the Choroschool and Clube do Choro in the capital Brasília, Brazil
Henrique Neto e Marcio Marinho
https://www.youtube.com/watch?v=Akzur-3DNac
More info about the artist:
Born in Brasilia in November 1984, Márcio Marinho began to take cavaquinho classes at age 13 with his uncle Ricardo Farias, "Uncle Brito". With rare musical talent, in 1999, at the age of 15, he began acting as a soloist for the group "Os Novos Chorões", composed of Leonardo Benon, Rafael Ferraz, Rafael dos Anjos and Brito 7 Cordas. From 2001, he was called to form another group of choro, "Sorrindo à Toa", also in the condition of soloist, which became its specialty. Under the command of Reco do Mandolim, the group existed of Leonardo Benon, Rafael dos Anjos, Henrique Neto and Otílio. The culmination of this moment, in Márcio's career, was a presentation to then-President Fernando Henrique Cardoso.
Integrating the "Cai Dentro" Trio in 2003 was the next step in his musical career. The formation of the trio materialized from an invitation of Hermeto Pascoal so that they participated of a show of him in the Club of Choro of Brasília. In 2004, at the invitation of Reco do Bandolim, Márcio joined the group "Choro Livre" – one of the oldest in Brasilia – as the cavaquinho player. At that time, he began his international career, with trips to Argentina, Peru, Uruguay, Bolivia, Mexico, Dubai, France, Germany, Tunisia, Spain.
From 2007, in search of innovation, he proposed to Rafael dos Anjos a more daring project bringing together the originality and idiosyncrasies of those who would form the quartet "Galinha Caipira Completa" in 2008. Also included in this work were Rafael dos Santos and Hamilton Pinheiro . Successful, the project received, in 2009, the Pixinguinha Prize, sponsored by Funarte, which made possible the recording of its first CD. Also in 2009, the work of "Cai Dentro" yielded to the trio the first place of the third edition of the "Furnas Geração Musical Project" contest. One of the awards was the recording of a CD.
From 2013 on he toured together with Choro Livre Europe and USA.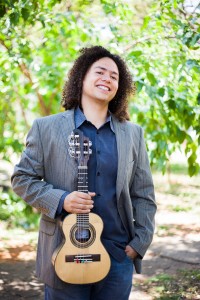 Henrique Neto
Henrique Neto is a professional 7 string guitarist. He has a Bachelor's degree in Music from the University of Brasilia. He has released a solo CD and has served as Deputy Director of the Raphael Rabello Brazilian School of Choro since 2012. He won the Geração Musical national award granted by Furnas in 2009 together with the group, Trio Cai Dentro. He has also been a member of the Choro Livre group for 10 years, which, besides being the most traditional group in Brasilia, accompanies guest musicians at Clube do Choro in Brasília. He has played alongside artists such as Dominguinhos, Sivuca, Hamilton de Holanda, Paulinho da Viola, Danilo Caymmi, Sebastião Tapajós, and Hermeto Pascoal, and has performed in more than fifteen countries in four continents.
more info: http://henriqueneto.net/
PROGRAM
14:30 Door Open
Grote zaal
15:00 Choro and Samba Presentations
17:30 Capoeira Presentation
18:00 Pause with Film (Documentary about Choro Music)
18: 45-20: 15 Concert Henrique, Marcio and EPM Holanda teachers
Grounds Café
20: 30-22: 00 Roda de Choro (acoustic)
Always a whole experience, Come and see it!
Choro Festival is organized by the Brazilian music school EPM Holanda i.s.m. GROUNDS and it has been made possible by our sponsor Kubox Self Storage, and our partners Berimbau de Ouro Capoeira School, the SKVR, Bom Sabor do Brasil, Il Malandrino, Youth Culture Fund and Creative Flavors.
* Food by Bom sabor do Brasil
From 15:00 Brazilian snacks (not included with the tickets price)
From 17:30 Brazilian Dinner (not included with the tickets price)
Do not forget to reserve your dinner. View the menu and book your dinner here. Email: contact@bomsabordobrasil.nl.
Prices:
Entrance fee € 12.50
EPM and Codarts students € 7.50
Kids up to 12 years free